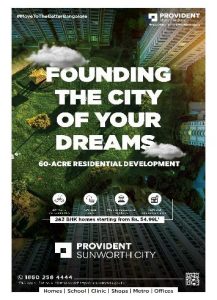 Finding the right location is always the first step – or the foundation – of building a dream home. And it's anything but easy. Excellent connectivity, impressive infrastructure, superb amenities, an irresistible return on investment – there are many boxes to be ticked and many criteria to be met when it comes to zeroing in on the perfect location. But the search has become simpler if you are in Bengaluru.  Mysore Road-NICE Junction, a bustling thoroughfare in the city, could soon be your address! Its strategic location and robust infrastructure promise its residents a vibrant lifestyle, making it an ideal destination for a thriving urban experience. It is a major transportation hub with the Mysore-Bengaluru expressway connecting the two cities. The location provides easy access to other key areas of Bengaluru via the Peripheral Ring Road and NICE Road, which offers a signal-free commute between Hosur and Tumkur Road. The junction is also very close to the upcoming Challaghatta Metro Station. 
Mysore Road is known for its top-notch social infrastructure – shopping malls, restaurants, hospitals, schools, and entertainment centers. It's a highly sought-after area of Bengaluru and for a good reason. 
At the forefront of this growth is the biggest project in the area, Provident Sunworth City. This integrated township offers serene living with a buffet of facilities designed for the needs of modern residents. 
The residential community's proximity to the lucrative micro-market on Mysore Road is an add-on. Raja Rajeshwari Medical College and Hospital, Global Village Tech Park, Gopalan Arcade Mall, to Marigold International School, everything is within a 10 km radius.
Whether for living or investment purposes, it's an excellent option offering great returns.  
A Blend of comfort and convenience 
Elevate your lifestyle with a choice of 2 and 3-BHK homes in 61 majestic high-rise towers. Provident Sunworth City is a city within the city of Bengaluru where dreams come alive in a sprawling 60-acre canvas of extraordinary living. Nestled off the bustling Mysore Road-NICE Junction and located close to the Challaghatta metro station, Provident Sunworth City offers seamless connectivity. It has all the essential facilities including retail, office, school, medical clinic, BMTC Bus Terminal and a shuttle service to the Metro Station, which is just five minutes away.  
Embrace a grand life filled with leisure and indulgence. Immerse yourself in a haven of recreational activities and breathtaking natural beauty as this project offers #MoreForSure. This project is more than a residential development. It's a reflection of the neighbourhood's true potential, meticulously crafted to offer an unmatched holistic living experience with premium 2 BHK and 3 BHK apartments at Mysore Road-NICE Junction. 
The project is home to over 50 world-class amenities to upgrade your health and soothe with recreational needs, including a forest trail, a viewing deck, sports courts, three clubhouses, a fitness centre, an open outdoor gym and more to cater to the diverse needs of its residents. The homes are well-planned to offer optimum functionality and attention to detail. 
Dive into the luxury of three expansive pools, where you're never more than a minute away from a refreshing swim. Playtime is just around the corner, with multiple play areas scattered throughout the community, ensuring that fun is always within two minutes of your doorstep. Say farewell to bumpy roads and revel in the freedom to run on a tree-lined jogging track that offers a revitalizing experience for your body and soul.
Nature lovers will be delighted to explore the abundant green open spaces spanning 19 acres of land. These green havens, which have been untouched, offer access to over 7,000 trees and plants to interact with. These ample green spaces lend a touch of freshness and serenity, enhancing people's bond with nature. 
The project aims to create a close-knit community where neighbours can connect, interact, and create lasting memories. They need not worry about safety at all, as there are round-the-clock security personnel. And the thoughtfully designed homes offer a holistic lifestyle with a seamless blend of expanded living and serenity. 
So why wait? Book your dream home at Provident Sunworth City today and experience the joy of living in a meticulously crafted living space.