Lend a magical touch to your tablescapes, living room decor and outdoor decorations to elevate your festive meal from a chic dinner party to the most memorable gathering of the year. Here are some refreshing ideas for you to take inspiration from. Go ahead, unleash your creativity and imagination.
Spectacular Tablescape
Place candles/tea candles along the table to create an air of enchantment. You can also fill the jars with flower petals/potpourri to enhance the appeal and also, fill the air with a delicate fragrance. Using scented candles is also an excellent idea.
Fantasy Land With Fairy Lights
Fairy lights are known for their dazzling visual effect and the warm and cosy vibes they add to any decor. Affordable fairy lights are also versatile – you can drape them around the plants, outline tabletops and chairs, or simply hang them as a stunning backdrop.
Set A Gorgeous Floral Tablescape
When it comes to floral arrangements, there are plenty of alluring options. You can opt for bouquets using seasonal flowers or exotic ones. Design fresh foliage, and you will win many admirers. Another option is to place the same kind of flowers – tulips, orchids, etc. – or the same colour – white, yellow, pink, etc., along the table. You can also place an elaborate floral arrangement as a centrepiece to create a focal point.
Go Festive With Napkins & Napkin Rings
Using colourful and exquisite table napkins will take your tablescape several notches higher. You can pick the colours depending on the theme and the backdrop. Also, use ornate napkin rings to complete the look.
Top It Up With Elegant Tableware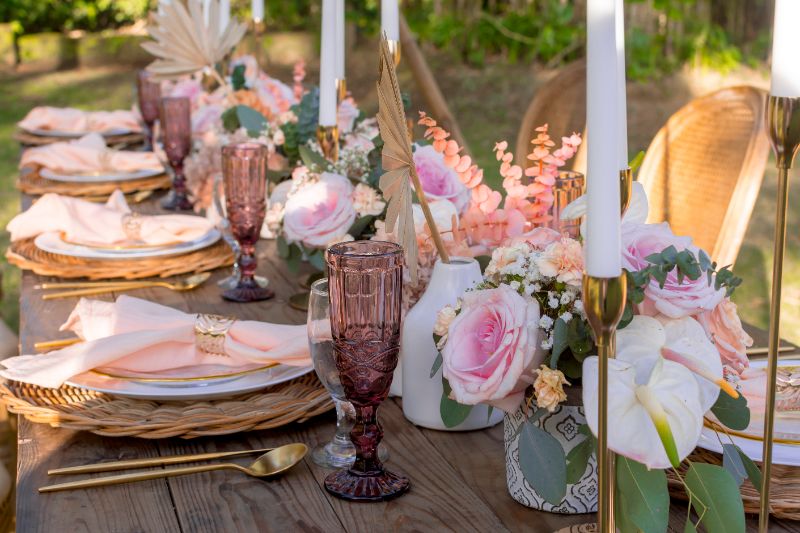 No matter how elaborate you go with the lighting and floral arrangements, all of it will look lacklustre without the right choice of tableware. Always opt for classy, chic tableware and make sure they complement the overall decor. 
Spread The Festive Cheer Outdoors
Cosy & Stunning Seating Arrangements
Festive decor is not restricted to indoor spaces. You can deck up all your outdoor areas like balcony, terrace, garden and backyard. For starters, create a seating area exuding festive charm. You can use comfortable and colourful cushions and rugs; adding a traditional touch will make it even more appealing and inviting.
Drown your outdoor space in dazzling lights to create a celebratory atmosphere. Go all out with traditional lamps, fairy lights, tealight candles, etc. You can drape string lights around trees/plants and hang paper lanterns. Decorative solar lights are another great option. You can also place a bamboo screen and decorate it with lights. It will enhance your privacy and also act as a stunning backdrop. These lights will create the perfect ambience for celebrations.
Brighten Up The Living Space
Floor Everyone With Rangoli & Diyas
Make your living space exude the true spirit of festivals with some beautiful Rangoli designs. Use colours or flowers, depending on your choice. Placing small designs across the room with one elaborate rangoli in the centre will make your home look more vibrant. Place diyas to enhance the look – on coffee tables, along the walls, near the main door- just about anywhere you think it's safe and looks nice. Keeping a pillar candle on the centre table will add to the allure. Gold adds to the richness of your decor and enhances the festive vibe. So, place golden diyas and sculptures across your home and outdoor spaces. Adding a golden finish to the lanterns and fairy lights will make the whole look come alive. 
You can also create an accent wall. Choose a wall in one of the most visible areas of the house – the living room, balcony or the foyer – and give it a festive makeover. Decorate the entire wall with flower garlands, beautiful colour frames, kites in various hues and even string lights. And, of course, never forget to fill your entire home with the fragrance of scented candles, flowers and potpourri.
Add An Indoor Delicacy/Sweet Counter
Have you seen people crowding the dessert counter at weddings/parties? Well, you can give it a festive twist this festive season and set up a mini counter of traditional sweets in your home. You can keep an assortment of readymade mithai, or, if space and budget allow you, get someone to prepare piping hot jalebis and samosas on demand. The counter will undoubtedly be the talk of the town in no time.
Enhance Celebratory Vibes
The coming months are going to be filled with myriad colours of celebration. Embrace the true spirit of the festive season by trying out some of these ideas and filling your heart and home with warmth, laughter and joy.