It's no exaggeration to say that the kitchen is the heart of every home. It's where food is prepared, and memories are created– a part of the home synonymous with nurturing, nourishment, love and sharing. Several factors have to be taken into consideration while designing the kitchen, along with functionality, safety, storage, space, ventilation, ease of maintenance and operation. We bring you some of the most popular kitchen layouts in India, along with their advantages and suitability. Read on:
L-Shaped Kitchen
 What is it?
An L-shaped kitchen has two perpendicular walls — one longer than the other. As the name suggests, these two walls meet to form an 'L'. Usually, the longer wall is occupied by cupboards, while multiple appliances (microwave, grinder, mixer, etc.) are kept on the countertop. You can fix organisers or small racks (for keeping condiments) on the shorter wall and also one appliance — ideally the stove – on the shorter countertop. The space below both the countertops can be used for storage.
 Advantages
Increased Efficiency: With two countertops, work organisation becomes easier in an L-shaped kitchen. While one countertop is used for cooking, the other is dedicated to appliances and storage.
Maximises Space: The L-shaped walls will neatly fit into a corner, leaving the rest of the kitchen open. This leads to roomier, more spacious kitchens.
Flexible: No matter the size of the house, an L-shaped kitchen is suitable for all homes.
It's Ideal For
Because they take up little space, L-shaped kitchens are best suited for homes where the living, dining, and kitchen spaces are combined. They are also excellent options for studio apartments. For example, our modern and thoughtfully designed studio apartments at Provident Kenworth in Hyderabad, have blended the L-shaped kitchens beautifully. These flawlessly

designed flats in Rajendranagar Hyderabad boast extremely functional kitchens with maximum space optimisation.
Parallel Kitchen
 What is it?
True to their name, parallel kitchens are kitchens where the two countertops run parallel to each other, and there is space between them. They are also called Galley Kitchens and Corridor Kitchens.
 Advantages
High On Efficiency: It gives you two separate countertops to work with and a lot of room for movement. It occupies less space with more functionality. You can also segregate your workspaces into 'wet' and 'dry' ones.
Ample Storage Space: The biggest advantage of parallel kitchens is that they provide adequate space for storing kitchen essentials. The walls and the space below the countertop can be fitted with cabinets, shelves, and drawers.
More Scope For Customisation: Your parallel kitchen can be customised exactly according to your requirements. From the countertop length to the number of storage modules, it allows more flexibility in design.
It's Ideal For
Parallel kitchens are ideal for smaller spaces, as they give a more spacious look. They are also perfect for elongated narrow kitchens and homes where the kitchen serves as a passageway to the utility area/balcony. At Provident Housing, the kitchens are spacious, giving you ample scope for customisation and creating the kitchen of your dreams.
Island Kitchen
 What is it?
Island kitchens are becoming increasingly popular in modern apartments. As the name suggests, these are kitchens fitted with a freestanding countertop in the centre of the kitchen.
 Advantages
Flexible Use Of The Island: The kitchen island can be used in multiple ways. It can be used as a dining table and can also be fitted with additional storage modules. It can be a fun place to bond with family and friends when the meals are being prepared. Your kids can also use it as their study area while you are cooking, thus allowing you to supervise and guide them.
More Space On The Main Countertops: By keeping appliances on the island or fitting the sink on it, you will get additional space on the main countertop, thus making it clutter-free.
Aesthetic Appeal: An island adds a dramatic touch to your kitchen. You can enhance it in multiple ways – by creating a green look or placing stylish bars. The more creative you get with your island, the more stunning your kitchen will look.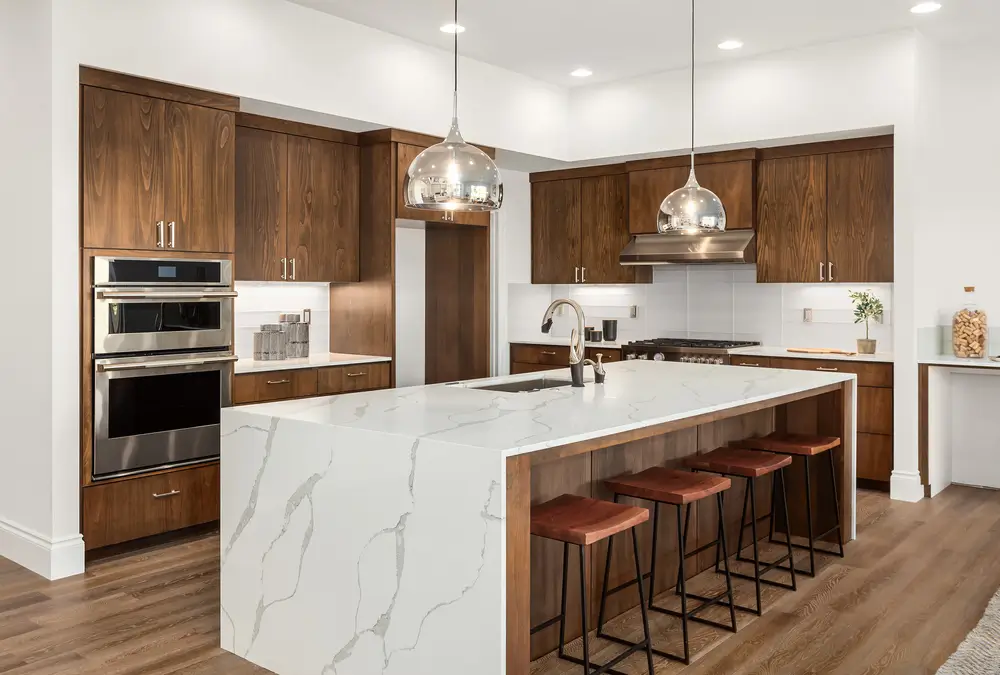 It's Ideal For
Islands are best suited for kitchens with ample space and open walls. If you have been pondering over a kitchen layout for your spacious new home, go ahead and create a kitchen island.
U-Shaped Kitchen
 What is it?
A U-shaped kitchen consists of three adjacent walls – and three countertops – shaped like the alphabet 'U'. One countertop will be smaller than the other two. It's a popular kitchen layout in many Indian homes.
 Advantages
Highly Versatile: A U-shaped layout leaves a lot of open space, which can be used to fix an island or a small breakfast table, depending on your requirements and the total space available in the kitchen.
Highly Functional: Fitted with three countertops, they are convenient for multiple users. Two or even three people can be engaged in chores at the same time.
More Space, More Convenience: With three countertops at your disposal, there's ample space for movement. This makes cooking a more pleasant experience.
Perfect Kitchen Triangle: The kitchen triangle – the refrigerator, stove and sink – can be placed in a perfect manner. While the sink and stove can be placed on two countertops, the refrigerator can be placed next to the one with the stove.
It's Ideal For
U-shaped kitchens are best suited for large or medium spaces. It's best avoided when the kitchen area is small, as it will look more cramped. U-shaped kitchens are also convenient when more than one person is working in the kitchen.
Choose Your Perfect Layout
When it comes to kitchens, there's no single formula that works for everyone. From space availability to individual requirements, many factors must be considered when choosing a kitchen layout. The mantra is to focus on functionality, space optimisation, comfort and convenience. If you have been looking for homes that offer a beautiful blend of design and functionality, welcome to Provident Housing.